The South Florida home market has more than its share of luxury homes, but for the father-son team at the helm of Pinecrest-based Canterbury Homes, it's all about quality over quantity.
Founded in 1987 by Louis Gaines, the construction company focuses on just a few projects at any one time, allowing Gaines and son Austin to keep control over every aspect of the process and ensure that clients benefit from their expertise at each step. "We're there, we're involved," says Austin, who has worked alongside his father since high school.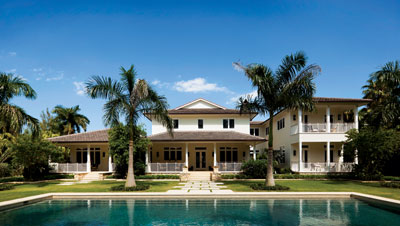 After starting out buying and renovating older lots in Pinecrest, Canterbury expanded into high-end homes across South Florida, building for clients in some of the most prestigious neighborhoods in Miami, including Gables Estates, Journey's End, Cocoplum, Tahiti Beach, Snapper Creek, Gables by the Sea and The Moorings. Throughout their growth, the Gaines' say they have remained focused on being a unique offering in a large market. "We've always maintained a higher quality level, offering something to customers that they can't find anywhere else," says Louis. "There's obviously a need for many price points in the real estate market, but we have maintained our niche in the higher end and made quality our main focus."
The team has also focused on their relationships with clients over the years, keeping in touch with many of their homeowners and returning to work with them over and over. It's no surprise why. Canterbury works alongside clients from day one, coordinating with architects and other team members to work on projects from literal ground level. "Our ideal situation is when we start with a client from the beginning," says Louis. "We really enjoy the process of developing the whole plan with our clients. We like to work closely with them to make sure we give them their picture perfect home while giving them realistic expectations on time and budget." Adds Austin, "We're very transparent. We want everyone to know what they're getting into. If we get the opportunity early enough we can work collaboratively with architects and engineers and we can be the most cost efficient."
Part of being a successful team for clients comes from the understanding and trust between father and son. Noting that they have had a great working relationship "from the get-go," the two see endless benefits for homeowners in their own history together. "Austin has always been very much aware of the expectations placed on him," says Louis. "We work hand-in-hand." And while Austin has taken over much of the day-to-day operations, he notes that it is still very much a team effort. "It's a collaborative relationship," he says. "We like bouncing things off of one another. If you hire us you get the both of us."
Looking ahead, both Gaines are finding inspiration in new and exciting projects, including what they call one of the "largest and most intricate" homes in the company history in Coral Gables ("There are certain projects that are just fun," says Louis.) and the ongoing evolution of smart home technology and efficiency. "All of this new technology has really helped increase how efficiently people use their home," says Austin. "It's interesting to see how that's going to continue to grow."
---
For more information on Canterbury Homes, please call (305) 234-9188 or visit canterburyhomesinc.com.