Now in its 14th year, the Deering Seafood Festival continues to be an award-winning, sold-out event, with more than 8,500 people converging upon the historic, Deering Estate in Palmetto Bay.  One of the highly anticipated highlights of the day-long event is the chef demonstrations taking place throughout the day, with each presentation limited to just 100 people on a first come, first served basis. The Deering Seafood Festival, presented by Tom Thumb, takes place on Sunday, March 25, 2018 from 10 am 'til 6 pm at the Deering Estate, 16701 SW 72 Avenue, Palmetto Bay.  www.DeeringSeafoodFestival.com.
Renowned for delicious catches from the sea, the festival also features non-stop live entertainment and activities for children of all ages.
Five celebrated local chefs, along with the winner of the Johnson & Wales Student Culinary Competition, will share their culinary expertise, presenting their favorite seafood recipes, using the freshest Florida seafood and accompaniments.  Held under the big-top tent in the Deering Estate's historic courtyard, the featured chefs are:
Kal Abdalla, A Fish Called Avalon
Adrianne Calvo, Chef Adrianne's Vineyard Restaurant and Wine Bar
Bret Hessler, American Harvest, Grove Bay Hospitality Group
Victor Manuel Lopez  Pisco y Nazca
Gil Plaster, Shula's 347 Grill

Kal Abdalla, A Fish Called Avalon

Gil Plaster, Shula's 347 Grill

Victor Manuel Lopez Pisco y Nazca

Bret Hessler, American Harvest, Grove Bay Hospitality Group

Adrianne Calvo, Chef Adrianne's Vineyard Restaurant and Wine Bar
Attendees at the chef demonstrations wil
l not only be able to enjoy samples of the food prepared, they also will receive copies of the recipe and may engage in a Q&A with each chef.  Throughout the day, Johnson & Wales culinary students will assist the chefs in the food preparation, serving and clean up.
There will also be a special treat for foodies, as Chef Damian Gilchrist, a perennial favorite of the Deering Seafood Festival, channels his Louisiana Bayou roots throughout the day preparing fire roasted oysters and sharing his recipe at the Craft Beer station, donating all proceeds to the Deering Estate Foundation.  Born in Louisiana, Damian grew up on the bayou, where he cultivated an early interest in the culinary arts. After years in the industry and working in many prominent kitchens throughout the country and abroad, he most recently served as Executive Chef at the Ocean Reef Club.  Prior to that, he worked for more than seven years as the Executive Chef at New Orleans' most exclusive private golf & country club, as well as several years at the prestigious Kensington Golf and Country in Naples as the head chef.  Throughout his career, Damian has earned a host of accolades, including numerous gold and silver medals from ACF-sanctioned competitions, as well as several "best of show" awards at local celebrity chef cook-offs.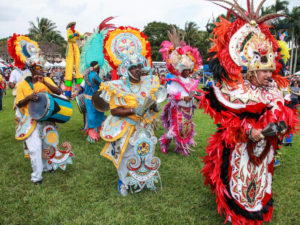 NON-STOP ENTERTAINMENT – Continuous entertainment takes place throughout the day on the main stage, presented by Mosquito Joe, making for a day of family fun, dancing and grooving to the Blackstar, Caribbean Crew and Pan Paradise Steel Drum Band, South Florida's premier steel drum and Reggae band In keeping with the Island theme, Virgin Islands stilt walkers and free-spirited Bahamian Junkanoo musicians weave throughout the crowds, with lively Caribbean musical performances throughout the Estate.
ACTIVITIES FOR THE KIDS – The Deering Seafood Festival offers activities that are both fun and educational for children of all ages, including Deering Discovery Cove, with fun, educational programming that incorporates interactive event stations that highlight the Deering Estate's ongoing, hands-on Environmental Education Programs and Camps that serve more than 20,000 children annually.
For the younger ones, the Li'l Shrimp Kids Zone provides unlimited play on inflatables, creative activities and a kid-friendly menu when hunger strikes. Ongoing activities include a rock-climbing wall and the Pelican Skipper pontoon boat rides to Chicken Key, as well as Artists Lane, featuring paintings, photography, crafts and jewelry by local artisans.
Admission:  The festival takes place Sunday, March 26, 2017 from 10 am. 'til 6 p.m. at the Deering Estate, 16701 SW 72 Avenue, Palmetto Bay, FL 33157.  Adult tickets are $20 in advance online/$25 the day of the event; children 4-14 years $7 in advance/$10 the day of the event. Deering Estate Foundation members enjoy complimentary admission. Ticket includes park entrance and all activities, excluding food, drink, pontoon rides and rock wall.
For those wishing to pedal to the festival, a courtesy bike valet sponsored by Heritage House is offered through Green Mobility Network.  Free Park and Ride is also available at Westminster Christian School and Palmetto Bay Village Center, with continuous shuttle-bus service to the Estate. For further information, visit www.DeeringSeafoodFestival.org, or call (305) 235-1668, ext. 263.
MORE ABOUT THE CHEFS
Kal Abdalla, A Fish Called Avalon, Miami Beach 
As the executive chef at A Fish Called Avalon on South Beach, Chef Kal draws upon his skills and knowledge of worldwide cuisines, bringing flavor and texture to American dishes that focus on seasonal, local ingredients. A native of Arwad, a Syrian island in the eastern Mediterranean, he combines his background in French classical fare with decades of experience preparing haute cuisine. During tenure at The Forge on Miami Beach, he accumulated honors including: DiRōNA awards, Wine Spectator's "Best Steak in America" and the Miami chapter of Chaine des Rotisseurs' "Best Restaurant of the Year" award. He also prepared dinner for both of Ronald Reagan's inaugural galas, and for the last three years, his culinary peers have voted him among the prestigious "Best Chefs America".
Adrianne Calvo, Chef Adrianne's Vineyard Restaurant and Wine Bar
Miami-based culinary artist and owner of Chef Adrianne's Vineyard Restaurant and Wine Bar in Kendall, Chef Adrianne Calvo has forged a formidable reputation in the South Florida restaurant scene.  The author of four cookbooks and a television personality with a cooking segment on NBC's "6 In The Mix," she has received accolades including Best Chef Miami, Best Chef Florida and Best Restaurant Miami.  She has prepared award-winning dishes for CNN correspondents, representatives from Gourmet, the Food Network and Bon Appetit, and she was the youngest person to cook for ambassadors at the United Nations. Calvo's "Make it Count" foundation sponsors events for St. Jude Children's Research Hospital, Susan G Komen, and the American Cancer Society.
Bret Hessler, American Harvest
As Director of Culinary Operations for Grove Bay Hospitality Group (GBHG), which operates several restaurants, Bret Hessler is responsible for back-of-house management across all concepts under the GBHG umbrella.  Throughout his 30 plus years of experience in the industry, Bret has worked in and out of the kitchen in a variety of positions at esteemed restaurants and bars including: Coogan's, Davis Dining Concepts, and Hops! Bistro & Brewery (where he worked closely with James Beard Award-winning Chef, Christopher Gross), and in South Florida Smith & Wollensky, Bistro Mezzaluna, Mardi Gras Casino, Tequila Ranch, and finally at Shula's 347 Grill – a franchise concept owned and operated by GBHG.
Chef Victor Manuel Lopez, Pisco y Nazca
The Executive Chef Partner at Pisco y Nazca in Kendall, was a young boy when he began experimenting with different spices, ingredients and techniques which he incorporates every day in the kitchen.  After earning his culinary degree, Lopez strengthened his talents as a seasonal banquet chef of fine dining at Indian Harbor Yacht Club and executive sous chef at Ruth Chris Hospitality Group in Connecticut. After his time as executive chef at Compass Entertainment INC.  Lopez moved to Miami taking the position of executive sous chef at Barton G. Restaurant. In 2015, he joined Pisco y Nazca team where he is presently involved with opening the brand's newest location in Washington D.C.
Gil Plaster, Shula's 347 Grill
The Executive Chef at Shula's 347 Grill in Coral Gables developed his appreciation of continental cuisine at an early age. The Miami native's love of Southern food and passion for blending Mediterranean, South Asian, and Latin flavors leads him to create dishes that reflect his multi-cultural influences.   Plaster honed his skills in a variety of Maine restaurants including Sea Dog Brewing Company where he fine-tuned his culinary skills and learned the critical aspects of managing a successful kitchen while working under Chef Christian Gordon.  After returning to Miami, Plaster took a position as sous chef at Town Kitchen & Bar and eventually moved on to work as Chef de Cuisine for Miami hotspots LuLu in the Grove and Greenstreet Café.

---
About The Deering Estate Foundation
Established in 1989, The Deering Estate Foundation is a community-based charitable 501(c) 3 Florida Corporation and the philanthropic arm of the Deering Estate.  Its Board of Directors, members and volunteers are made up of a diverse group of business and community leaders who are dedicated advocates of the Estate and active supporters of education, research, cultural arts, environmental conservation and historic preservation.
---
About The Deering Estate
The Deering Estate preserves the 1920s era Miami estate of Charles Deering, Chicago industrialist, early preservationist, environmentalist, art collector, philanthropist and first chairman of the International Harvester Company. Nestled along the coast in South Dade, the 450-acre Deering Estate is a 21st Century museum destination, environmental preserve and historic site listed on the National Register of Historic Places.  From canoe tours to bird walks and guided museum and Natural Areas Tours, the Deering Estate has diverse activities for the whole family to enjoy.For more information on the Deering Estate please visit www.deeringestate.org
 
Proceeds from the Deering Seafood Festival benefit the Deering Estate Foundation and are used for environmental education, preservation and programming.  The Deering Seafood Festival is made possible with the support of the Miami-Dade County Tourist Development Council, the Miami-Dade County Department of Cultural Affairs, the Cultural Affairs Council, and the Miami-Dade Mayor and Board of County Commissioners.