Walk into Kitty N Pink on 122 Street and US-1 on a Friday afternoon, and you will have an experience different than a typical nail salon. Upbeat music, lively atmosphere, and chatter about plans for the evening fill the room. Nail designs are being discussed for a dinner date; advice is being given on hairstyles to complement a cocktail dress for that evening; or perhaps, a client's entire, new image is being crafted on the spot by an aesthetician. All this, over a complimentary glass of wine and in a cozy, comfortable, living-room setting. Clearly, Kitty N Pink is not a typical nail salon, but more of the "nail spa and boutique" linked to its name. This is because owner Delisa Urbaneja has strived to apply her own lifetime experience as a consumer of nail and beauty services to build a successful business that relies on good impressions to stay one step ahead. And it shows.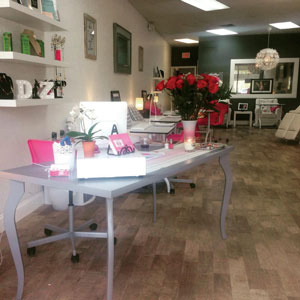 To enhance the experience of their devout clientele, Kitty N Pink is designed to replicate how girlfriends might feel when gathered in their own living rooms, with confidence, trust, and discretion added to the comfort of being professionally pampered. The spa provides a relaxing atmosphere where customers may share their happiness, tell jokes, or "air out" their challenges, and receive the type of support and counsel expected of a friend. Early in the afternoon, relaxing music will typically assuage the senses, coupled with aromas created by Urbaneja herself by mixing oils, incense, or waxes. Expect no acrylics or strong smells but only a natural ambience, visually enhanced throughout the boutique by cleanliness, orderliness, and tastefully selected orchids. "Good first impressions put the business one step ahead," says Urbaneja.
The atmosphere livens, however, after 4 pm every Thursday, Friday, and Saturday afternoon. Many customers consider Kitty N Pink a launching pad for the ensuing evening activities. A glass of wine in the afternoon, friends come together for facials, hair and nails, and leave feeling fabulous.
At the spa, Urbaneja ensures quality control through cleanliness, with single-use pedicure tubs, impeccable manicure tables, and medical-grade sanitizing machines to sterilize manicurists' tools between each service. She also ensures quality by first trying every new product and service herself. This extends to new hires; Urbaneja personally qualifies their level of dexterity and professionalism before bringing them on board. She is also constantly observing her customers' experience and, as needed, asks for feedback. She "never waits for the complaint," she says and instead anticipates issues and rectifies problems on the spot.
Kitty N Pink motivates its clientele by providing a great spa experience, but, every other month, a promotional bundle may be created as well, combining products and services at a discount, like a mani-pedi with eyebrows, or a massage with facial.
All in all, it is easy to see that the spa's team members love working there for the same reasons that customers love to come. There is a sense of familiarity and comfort that usually can only be found at home. Clean, cozy, well-stocked, easily accessible from US-1, Kitty N Pink assures new and returning customers will be pleased with a high-quality atmosphere and friendly, knowledgeable people.
---
Kitty N Pink is located at 12241 S Dixie Hwy in Pinecrest. Please call 305-810-7142 for more information or to make an appointment. Please also visit facebook.com/KittynPink