Nicklaus Children's Hospital has opened the Nicklaus Children's Pinecrest Outpatient Center, located in Suniland Plaza Shopping Center, within the Village of Pinecrest. The center offers walk-in pediatric urgent care services seven days a week in an environment dedicated exclusively to kids. The center also features a Sports Health Center destination for young athletes, with offerings that include consultations with sports medicine physicians, performance training and injury prevention programs in the state-of-the-art gym, and rehabilitative therapy for recovering athletes.
"It is a great honor to expand our services to children in Pinecrest as part of our vision to be where the children are," said Nancy Humbert, Executive Vice President of Ambulatory Services & External Affiliations for Nicklaus Children's Health System. "This newest addition to our thriving network of outpatient centers will enhance access for families in this beautiful family-oriented community we are all pleased to now call home."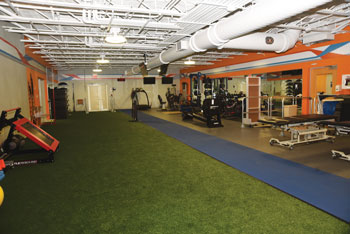 The Urgent Care Center offers personalized and prompt care for babies, children, teens and young adults through 21 years old for minor injuries and illnesses and is open seven days a week. On-site lab and X-ray as part of urgent care services is an added convenience when needed.
The 2,200 sq. ft. Sports Health Center, located on the second floor of the facility, is dedicated to all young athletes, from dancers to competitive sports athletes in order to reduce the risk of injury and improve performance. The center offers innovative programs and services that encompass a multidisciplinary approach that includes orthopedic and sports medicine specialists, sports physical therapists, athletic trainers, and nutrition services to become available in the spring of 2018.
The Nicklaus Children's Pinecrest Outpatient Center marks the 12th Nicklaus Children's outpatient center with locations that span from northern Palm Beach to southern Miami-Dade counties. Additional outpatient center locations are planned to open in Hialeah and Homestead in 2018.
For more details on hours of operation as well as a complete list of services and appointment scheduling information, please visit nicklauschildrens.org/pinecrest.
---
Nicklaus Children's Hospital was founded in 1950 by Variety Clubs International. Nicklaus Children's Hospital is South Florida's only licensed specialty hospital exclusively for children, with nearly 800 attending physicians and more than 475 pediatric subspecialists. The 289-bed hospital, known as Miami Children's Hospital from 1983 through 2014, is renowned for excellence in all aspects of pediatric medicine with several specialty programs routinely ranked among the best in the nation in 2008, 2009, 2010, 2011, 2012, 2013, 2014, 2015, 2016 and 2017-18 by U.S. News & World Report. The hospital is also home to the largest pediatric teaching program in the southeastern United States and has been designated an American Nurses Credentialing Center (ANCC) Magnet facility, the nursing profession's most prestigious institutional honor. For more information, please visit www.nicklauschildrens.org.
Pictured: From L to R: Lani Ferro, Director of Public Policy and Governmental Affairs at NCHS; Jose Perdomo, Senior Vice President of Ethics and Compliance & Privacy Officer at NCHS; Nancy Humbert, Executive Vice President of Ambulatory Services and External Affiliations at NCHS; Joseph M. Corradino, Mayor of the Village of Pinecrest; Dr. Narendra M. Kini, CEO at NCHS; Marlene Garrastazu Burt, Regional Director of Ambulatory Services at NCHS.