Stewards of Capital & Company is putting clients on the right path to home ownership.
For John Lopez, the real estate market is personal.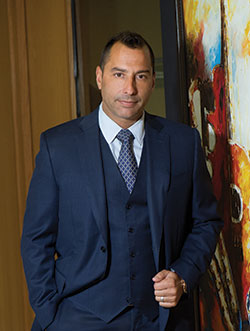 As the founder, president and CEO of Gables-based Stewards of Capital & Company, Lopez takes the fluctuating Miami market in stride, working with community members and businesses to create the right time, place and scenario for real estate success.
"Big banks have to send loans out," says Lopez, a Certified Mortgage Planning Specialist and Registered Financial Consultant. "Here, we run it, we underwrite it; everything is in my office. Because of that we have a very close relationship with our clients."
A little background: After years as a financial advisor and commercial mortgage broker, Lopez started Stewards in 2005, creating a private banking solution for clients that would cover lending, investments, financial planning and wealth management. Three years later Lopez would put that dedication to personalized attention to a specific use. "When the market tanked in 2008 we helped a lot of people with short sales and loan modifications," he says. "It was a tough time, there were no protocols and the big banks were running around like chickens with their heads cut off." When the markets reopened and banks began to loan again, those same clients returned to Lopez's office. "Our old clients came back and, it was a tough time, but they had built their credit back up again and we were able to start loaning."
It's that dedication to finding solutions that motivates Lopez and his team and he says, today especially, lenders are making it easier than ever for borrowers to qualify. "They're really creating incentives for people to get loans to compensate for rising interest rates," he says, noting that even current "rising" rates are on the low end historically. "Mortgage insurance is lower, debt-to-income percentages are more lenient; Freddie Mac and Fannie Mae have to compete with FHA loans and have developed their own programs." Those include HomeReady and HomePossible, both 3 percent down programs that Lopez is excited about for a variety of clients.
According to Lopez refinancing is also a hot topic in his office these days. With home prices rising across much of South Florida, many of his clients are finding that rate and term refinancing may be a good solution to correct a past high interest hit, while cash out refinancing can help fund renovations and home improvements. Also coming back into the light? Investment properties. "If you own a primary residence, have a 650 or higher credit score and can put down 25 percent it's very easy to purchase a rental or investment property right now," he says.
No matter what the solution, Lopez says he's committed to finding the correct plan for each and every client, whether that means finding the right loan or setting clients on the right path to eventual home ownership down the line. "As a certified financial planner and mortgage planner I can sit with a client who is looking to buy and make sure everything is structured correctly," says Lopez. His small size also benefits clients. "Our rates are competitive with any large institution," he says. "I'm small so I can control the deals that go through and know every detail. I have those programs that the big banks won't do and I can keep clients in the loop the entire time."
Stewards of Capital & Company is located at 2100 Ponce De Leon Blvd #800, Coral Gables, FL 33134. For more information or if you have any questions, please call 305-448-5550, or visit stewardsofcapital.com.