Sarah Kemeness, the new head of school at St. Thomas Episcopal Parish School (STEPS), has always been passionate about education. With over 25 years of experience, she began her career at Palmer Trinity School, where she held several positions over her 13-year tenure, including upper and middle school dean of students, lead advisor, English teacher and varsity soccer coach.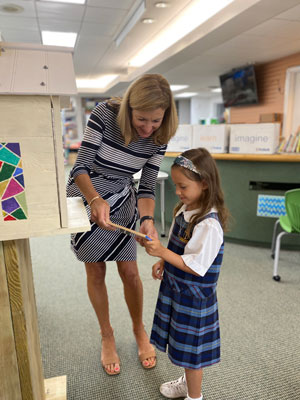 She went on to serve as upper school head at Lake Mary Preparatory School and middle/upper school head at Palm Beach Day Academy. Notably, she established a "teachers teaching teachers" model that inspires collaboration between faculty and streamlines teacher professional development. "I will always be passionate about teaching and strive to keep one foot in the classroom door," she says. "As an administrator, I'm driven by inclusivity and ensuring everyone feels welcome at our school."
The New York–born Kemeness relocated to Atlanta with her family, where she attended the Lovett School. It was here where she first learned what it meant to be part of an independent school community. She moved to Miami for college and has made South Florida her home ever since.
"Coming back to the South Miami community is like coming home," she says. "Miami is where it all started for me — earning my bachelor's degree in education at the University of Miami and my master of arts in education administration from Florida International University. My first teaching job was at Palmer Trinity School, which, funnily enough, has a strong St. Thomas alumni population."
Ms. Kemeness had the opportunity to spend time at STEPS last year after accepting the position, and she witnessed firsthand how the faculty function as guides for their students. "Technology enhances — does not replace — the teacher's learning initiatives," she says. "Students are engaged, ask questions, collaborate with their peers and are happy. Teachers have created a space in which students are comfortable sharing their perspectives. It's a beautiful thing that I look forward to fostering, supporting and elevating in any way I can."
St. Thomas' long-standing history of strong academics and Episcopalian values is complemented by social-emotional learning (SEL). As she embarks on this new chapter, Ms. Kemeness says her goals are to build upon this foundation. "Our SEL curriculum is enacted simultaneously with our religious education, encouraging students to have a relationship with God and the confidence to know that they can do anything with God's help," she says.
Outside of work, Ms. Kemeness loves playing golf, sitting on the beach or paddleboarding. If it's Saturday and football season, you'll probably find her donning orange and green, cheering on her alma mater, the Miami Hurricanes. "While I will not share my average golf score for fear I won't get invited to play, I did make a hole in one on a par 3 in Palm Beach three years ago!" she says.
(Visited 82 times, 1 visits today)
Tags:
back to school
,
st thomas STEPS
Last modified: August 8, 2022