Palmetto Middle School, home of the Lancers, celebrates its 60th anniversary this year.
Through its educational programs, extracurricular activities and Parent Teacher Student Association (PTSA) initiatives, the school aims to be a well-rounded educational choice serving the diverse community of Palmetto Bay. "We are a school deep-rooted in tradition while embracing the future, its changes and ensuring we adapt and excel while focusing on the academic success of our students," says Principal Jesus Gonzalez.
With several levels of education and opportunities to earn high school credits in science, math and foreign languages, as well as enrichment programs, various electives, sports and clubs, students at every level are supported and encouraged to reach for their personal best.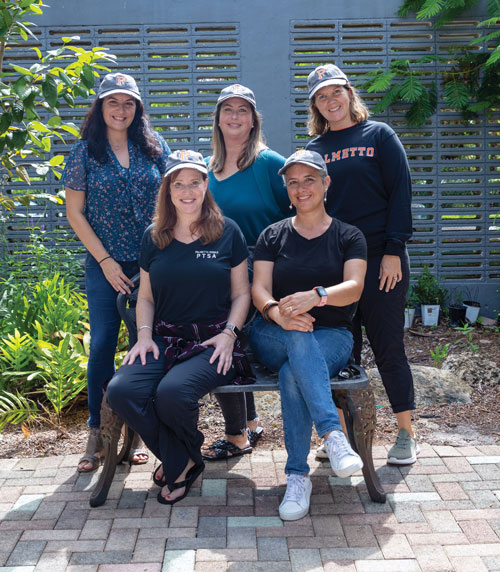 Past and future alums or those who live in the neighborhood are invited to join PMS in celebrating 60 years with a special $60 membership! You can purchase this online at palmettoms.memberhub.com/store. If you have any questions, email Carolina Ballas at pmsptsafundraising@gmail.com.
◀ Standing: Dailyn Wall, Andrea Gonzalez, Keri Andrews; Sitting: Mona Markus, Carolina Ballas
Assistant Principal Isamara Berrios adds that the PTSA plays a big role in making this school community extra special. "Through their endeavors and support, community events are organized, families in need are supported and funds are raised to enhance assigned school budgets," says Berrios. "We are all part of one community, and together, we can truly make a difference!"
We sat down with Gonzalez and Berrios to learn more about the school and its plans to celebrate this milestone.
Can you share some of the school's goals for this upcoming school year?
As always, our main goal is to ensure student success and academic achievement. Additionally, and post-COVID, we want to invite the community back into our school and support the students who have struggled with coming back from the pandemic era.
Also, the school is currently undergoing major infrastructure upgrades, so staying on the timeline and minimizing the effects of construction on school days is a priority. With big infrastructure upgrades, it's important to keep on par with technology. The PTSA fundraising will be geared towards upgrading and expanding our technological needs.
What are some ways the school stays connected with the parents and the rest of the community?
New this year, Palmetto Middle School (PMS) will be implementing SCHOOLOGY, the official Miami-Dade County Public Schools platform through which students will access their courses and parents will be able to share resources and engage with one another. In addition, the PTSA complements the school's communication with Facebook, Instagram, Newsletters, the PTSA app and, new this year, grade-level parent chats through WhatsApp.
How has the school evolved and grown over the years?
Growth has been achieved by embracing technology, understanding how education has evolved and how we embrace change and implement it to ensure academic success for our children. In the last few years, we incorporated forensic science, strengthening our already-distinguished science program. The results from last year have also placed us into being an "A" school, which reflects greater academic achievements.
What are some of the events and activities planned to celebrate your 60th anniversary?
The PMS staff is designing T-shirts, and the Performing Arts department is busy putting together ideas to celebrate the historical event while showcasing student talent. Additionally, the PTSA will bring back their Orange and Black Fall Social Event for parents and a Carnival for students in the spring.
(Visited 263 times, 1 visits today)
Last modified: August 29, 2022