The Children's Bereavement Center (CBC) had their 7th annual 5K event, Steps for Healing, at Zoo Miami on Saturday November 18th. The Children's Bereavement Center offers free grief peer support groups in Miami-Dade, Broward and Palm Beach counties for families and individuals after the death of a loved one. The CBC partners with Vitas Healthcare, New York Life, and Florida Blue, and hosts its free groups at 9 locations around South Florida.
When guests arrived at the event, they received Steps for Healing shirts and bibs for the timed 5k, and were then lead through an energizing warm up by Jay Marcos, of VideoSync and Body & Soul Gym. Marcos told a touching story about losing his mother at a young age, and how grief support groups gave him the safe space and hope he needed to move forward. Sadly, just days after the event, Marcos himself passed away unexpectedly, leaving his fans, friends and loved ones to band together in their own grief.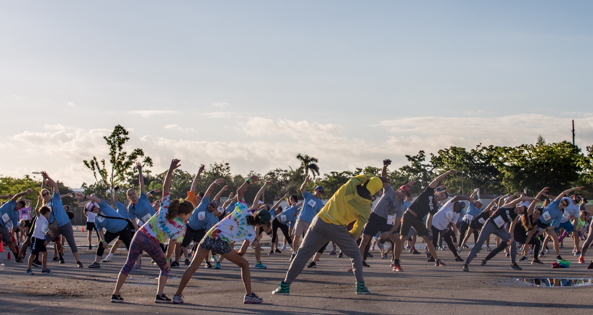 Many corporate and school teams ran together to show their support for the CBC's grief services. And teams asked their colleagues and classmates to sponsor their run, as every $1000 raised supports a child in the CBC program for a year. Family and friend teams ran in honor of loved ones they had lost, making the event even more personal and meaningful.
Runners, walkers, and babies in strollers made their way through the park as volunteers cheered them on, and had the option to run quickly to compete for a medal, or simply enjoy more time strolling (and even feeding) the animals. Once the race was completed, the participants all made their way back to Camel Corner at the zoo for breakfast, family activities, and of course, to find out who the winners of the race were! Ian Fox, took home the CBC High School Cup for of Ransom Everglades School.
Sounds Sweet Entertainment set the celebratory mood with their upbeat playlist, Face2Face Studios hosted Kids' Corner and provided face painting for all of the children at the event, Burnie from the Miami Heat clowned around, and kids had the chance at the Fun Run obstacle course, where everyone who participated won a medal.
Other activities included massages from Massage Envy, post-run stretching with Body & Soul Boxing gym, athletic body taping from Healthsource of Palmetto Bay, and spine assessments from New Leaf Chiropractic. Breakfast included sweet and savory crepes by the CrepeMaker, delicious baked goods by Bakerly, fresh fruit from Trader Joe's, Entenmann's muffins, Publix donuts, Clif Bars and beverages, provided by Starbucks and Baptist Health South Florida. Volunteers from the Girl Scouts, the Overtown Children and Youth Coalition's Youth Commissioners, Twenty Little Working Girls, Doral Academy Quill and Scroll Club, New York Life, and Vitas Healthcare came out to lend a hand at the event and make it a success.