Camillus House and PACE Center for Girls each receive $200,000 as 2017 Bank of America Miami Neighborhood Builders®
The Bank of America Charitable Foundation announced today that 125 nonprofits in South Florida have collectively been awarded more than $2.5 million in grants in 2017. Newly announced in the fourth quarter are more than $570,000 in grants to nonprofits that support community revitalization and the arts, as well as the recipients of this year's Bank of America Neighborhood Builder® Awards. In Miami, 2017 Neighborhood Builders Camillus House and PACE Center for Girls will each receive $200,000 in flexible funding, leadership development (for the executive director and a developing leader in the organization), a network of peer organizations across the U.S. and the opportunity to access capital in order to expand their impact in the community.
"These nonprofit partners represent the very best of our community, working tirelessly to address critical community needs that strengthen our economy from basic essentials like housing and food, to community revitalization, arts education and workforce development programs," said Gene Schaefer, Miami market president for Bank of America. "It's our privilege to deploy capital in our community and build partnerships that advance economic and social progress, as part of our approach to responsible growth."
Camillus House will utilize its flexible funding as a Neighborhood Builder to expand the Camillus Youth Housing Initiative (CYHI), providing access to housing over two years for 48 youths who are homeless and/or emerging from the foster care system. The newly retrofitted units will be fully furnished including art, cable and Wi-Fi, helping students to cope with the trauma of homelessness, achieve their goals and break the chain of cyclical poverty. The funds will support facilities at the main Camillus House Norwegian Cruise Line Campus, Emmaus House and access to behavioral health services through sister agency Camillus Health.
PACE Center for Girls will use the funding to enhance and grow a three-year after care program for girls who have transitioned out of the PACE Center, in an effort to minimize the impact of risk factors, improve their academic standings and reduce the chance of juvenile justice involvement. The program includes constant contact via counseling services, career/job workshops, role model sessions and field trips to colleges and businesses.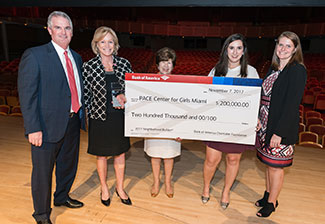 Also in the fourth quarter, Bank of America awarded 13 nonprofits in Miami-Dade County with grant funding to directly support community development. That includes helping low-to-moderate income individuals and families access resources for affordable housing, and promote better living environments through community revitalization. It will also support educational and cultural centers, like museums, art institutions, zoos and performing arts centers that provide individuals with enriching cultural experiences, while being economic drivers.
Miami-Dade County organizations that will receive community development funding include:
ACCION East
Carrfour Supportive Housing
Casa Valentina
Cuban American National Council
Florida Grand Opera
Habitat for Humanity of Greater Miami
Haitian American Community Development Coalition
Miami City Ballet
Neighborhood Housing Services of South Florida
Rebuilding Together Miami-Dade
South Florida Community Development Coalition
Urban Land Institute
Zoo Miami Foundation
The additional grants awarded throughout the year benefit organizations that address critical issues including hunger, homelessness, and poverty, as well as advance pathways to overcome those issues through workforce development, skills training and high school graduation.
The bank's philanthropic mission also extends to its employees, who have volunteered more than 6,000 hours to-date to organizations in Miami-Dade as part of the company's annual goal to donate 2 million volunteer hours nationally. Additionally, the bank supports employee giving to qualifying charitable organizations through the Foundation's Matching Gifts program.
---
Bank of America Environmental, Social and Governance Approach: At Bank of America, we're guided by a common purpose to help make financial lives better, through the power of every connection. We're delivering on this through responsible growth with a focus on our environmental, social and governance (ESG) leadership. ESG is embedded across our eight lines of business and reflects how we help fuel the global economy, build trust and credibility, and represent a company that people want to work for, invest in and do business with. It's demonstrated in the inclusive and supportive workplace we create for our employees, the responsible products and services we offer our clients, and the impact we make around the world in helping local economies thrive. An important part of this work is forming strong partnerships with nonprofits and advocacy groups, such as community, consumer and environmental organizations, to bring together our collective networks and expertise to achieve greater impact. Learn more at about.bankofamerica.com, and connect with us on Twitter at @BofA_News Visit the Bank of America newsroom for more Bank of America news, and click here to register for news email alerts. www.bankofamerica.com