Get your Fall cultural arts calendar in order with this handy guide to South Florida's most exciting events.
THE SEPTEMBER ARTS KICKOFF
What:     ArtsLaunch
When:     September 9
Where:    The Adrienne Arsht Center
Why:     120 arts organizations, 25 live performances, 15 eateries, cost for admission $0. The free, all-day community happening will be the official kick-off for Miami's 2017-2018 season. Over 100 local cultural organizations will take to the Ziff Ballet Opera House Stage at their largest Community Arts Village yet—. The day will be filled with Broadway demos, dance workshops, and an entire lineup of family-friendly festivities. Take a tour of the entire Arsht Center campus, experience culinary demos by BRAVA by Brad Kilgore, or just wind down at the Food Caravan Boulevard and Sweet Street filled with some of Miami's favorite bites. Be among the first to snag tickets to The Arsht Center's upcoming season and stay for the explosive after party. Arshtcenter.org
OCTOBER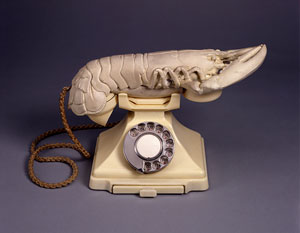 What:     Dalí and Schiaparelli
When:     October 18, 2017 – January 14, 2018
Where:     The Dalí Museum, St. Petersburg, Florida
Why:     The exhibit – presented in collaboration by The Dalí Museum and Schiaparelli Paris – will feature haute couture gowns and accessories, jewelry, paintings, drawings, objects and photos, as well as new designs by Bertrand Guyon for Maison Schiaparelli. This will be the first exhibition dedicated to the creative relationship and works of Elsa Schiaparelli and Salvador Dalí – friends and collaborators that set Paris and the world ablaze with their groundbreaking visions. TheDali.org
What:     On Your Feet!
When:     October 5-15 2017
Where:     The Adrienne Arsht Center
Why:     From their humble beginnings in Cuba, Emilio and Gloria Estefan came to Miami and broke through all barriers to become a crossover sensation at the very top of the pop music world. But just when they thought they had it all, they almost lost everything. "On Your Feet!" takes the audience behind the music and inside the real story of this record-making and groundbreaking couple who, in the face of adversity, found a way to end up on their feet. Arshtcenter.org
What:     The Falls Festival of the Arts
When:     October 7
Where:     The Falls Shopping Center
Why:     This annual festival offers more than 100 exhibitors (both local and national) competing in a juried art show as well as a culinary corner, live music and Kid Zone for the smaller art aficionados. Check out artists in 12 categories including oil, acrylic, watercolor, mixed media and photography. Fallsartfestival.com
What:     The Bass
When:     October 8
Where:     Bass Museum of Art
Why:     The museum opens to the public this month after an extensive $12 million renovation that added nearly 50 percent more space. Stop by to participate in "Dazzle Fungus," an interactive installation that allows visitors to add graphic stickers to create a welcoming kaleidoscope for all who enter the museum. Thebass.org
What:     Magic City Opera Presents: Hansel and Gretel
When:     October 22
Where:     Pinecrest Gardens
Why:     This very special performance is designed to introduce children 3-18 years to the wonderful world of opera. Based on the beloved children's story, Hansel and Gretel: The Opera has been delighting family audiences around the world since its premiere in 1893. Join Magic City Opera on this magical journey and be sure to dress up in Halloween costumes so you and your family can meet and collect candy from the performers on the actual set after the show. pinecrestgardens.org
NOVEMBER
What:     Portraits by Romero Britto
When:     Oct. 26 – Nov. 24, 2017
Where:     Nader Art Museum Latin America
Why:     Nader Art Museum Latin America (NAMLA) and Romero Britto have partnered for an exclusive exhibit titled "Portraits." The exhibit features original portraits commissioned by private art aficionados earlier this year as well as showcases artworks from Britto's existing "Portraits" collection featuring prominent figures in pop culture and history including Henri Matisse, Sophia Loren, Brigitte Bardot, Pele, Muhammad Ali and Queen Elizabeth II, among others. naderlamuseum.org
What:     Jay Z, The 4:44 Tour
When:     November 11
Where:     American Airlines Arena
Why:     The famed rapper and mogul's upcoming tour takes its name from Jay-Z's 13th and newest studio album, "4:44," which has topped the iTunes sales charts in no fewer than 39 countries around the world. Don't miss the chance to experience the phenomenon in person when he brings his signature style to Miami this fall. Aarena.com
What:     Concerts For Kids Star Wars Spectacular
When:     November 15
Where:     New World Center
Why:     The New World Symphony Fellows will transport families to a galaxy far, far away in celebration of the 40th anniversary of George Lucas' Star Wars. The Force is strong with conductor Dean Whiteside as he leads famous themes for Yoda, Princess Leia and Darth Vader. Come as your favorite character as the dark side is defeated on stage. The storytelling continues with Sergei Prokofiev's musical version of feuding families from Shakespeare's classic and the march of Camille Saint-Saëns' French regiment. Concerts for Kids are designed with young ones—ages four to nine—in mind. Arrive early to meet the NWS Fellows at the Instrument Petting Zoo.
What:     Dimensions Dance Theatre of Miami
When:     November 18
Where:     South Miami Dade Cultural Arts Center
Why:     South Florida's newest, critically-acclaimed ballet company, Dimensions Dance Theatre of Miami, showcases entrancing works by renowned choreographers Jerry Opdenacker (Ballet Florida, O Dance), Nilas Martins (New York City Ballet), Gerald Arpino (Joffrey Ballet) and more.
What:     Becoming Dr. Ruth
When:     November 25
Where:     GableStage at the Biltmore
Why:     Everyone knows Dr. Ruth Westheimer as America's most famous sex therapist. Few, however, know the incredible journey that preceded it. From fleeing the Nazis in the Kindertransport and joining the Haganah in Jerusalem as a scout and sniper, to her struggles to succeed as a single mother coming to America, "Becoming Dr. Ruth" is filled with the humor, honesty and life-affirming spirit of Karola Ruth Siegel, the girl who became "Dr. Ruth."
DECEMBER
What:     Dana Friedman: Perfect Stranger
When:     December 2017
Where:     PAMM
Why:     The Perez Art Museum takes on the first major career retrospective of Miami-based Friedman, best known for film and video installations that combine the techniques and principles of structuralist filmmaking with a strong emotional charge and an intuitive approach to subject matter. Pamm.org
What:     Cirque Dreams Holidaze
When:     December 26-30
Where:     Au-Rene Theater at The Broward Center for the Performing Arts
Why:     Cirque Dreams Holidaze is a Broadway musical, cirque spectacle and family show all in one! Over 20 of the world's best acts, 300 imaginative costumes, the finest singers, original music, seasonal favorites and multi-million dollar stage production make this holiday show a must see! Soaring acrobatics, gravity defying feats, elaborate production numbers and illusions will leave you mesmerized in a 2-hour theatrical adventure. Browardcenter.org
What:     The Book of Mormon
When:     November 28 – December 3
Where:     The Adrienne Arsht Center
Why:     This outrageous musical comedy follows the misadventures of a mismatched pair of missionaries, sent halfway across the world to spread the Good Word. Now with standing room only productions in London, on Broadway, and across North America, "The Book of Mormon" has truly become an international sensation. Arshtcenter.org
What:     Riptide Music Festival
When:     December 2-3
Where:     Fort Lauderdale Beach Park
Why:     The Riptide Music Festival will return to Fort Lauderdale Beach Park, featuring an amiable lineup of pop, rock and R&B acts spanning multiple generations. Day 1 will include a performance by Cage the Elephant, Weezer, ew Politics, Mondo Cozmo, Barns Courtney, Los 5, MiQ, the Academic and the Heirs, as well as popular South Florida acts Alex Di Leo, Mike Mineo and Brother Sundance. Day 2 will feature KC and the Sunshine Band, Lou Gramm of Foreigner, Morris Day and the Time, Loverboy, Shannon, Lime and Miami classic rockers Mr. Nice Guy.
---
See more in the September 2017 Print Editions!