Pinecrest's Roig Academy offers students a different approach to everyday learning.
Not all students thrive in a traditional school environment. In fact, for many that feeling of not conforming to the norm can result in negative feelings about school or feelings of being left out or not good enough. Enter The Roig Academy. The tiny private school, tucked away just west of the highway in Pinecrest, prides itself on welcoming children, accepting them for who they are and placing focus on their individual strengths. "Each child who walks through our front doors is welcomed into a nurturing environment and made to feel like they belong," says Head of School Jennifer Roig. We sat down with Roig to learn more about the unique school, the philosophy behind its learning process and why every student deserves an opportunity to be great.
Tell me a little about the school's creation.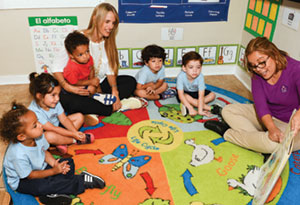 The Roig Academy was created out of a vision to offer an innovative form of education for students who, for a variety of reasons, whether academic, or social, are not successful in a traditional educational setting. This vision came to fruition in 2000 and has been growing and strengthening ever since.
What was the philosophy when it opened?
The philosophy has always been to support students through an individualized and holistic approach. It is through this approach that students begin to nurture their own academic success and find further growth in the areas of social and emotional wellness.
What types of struggles do you see in children not comfortable in that traditional setting and how does The Roig Academy address those?
In a traditional learning environment students are placed in a classroom as the result of their chronological age. In this style of learning environment, students, who for various reasons do not conform to the standards of a "typical" child of the same age often struggle to find academic success. These struggles then translate into the development of a poor self-image, increased anxiety and a lack of confidence. These students often internalize these negative feelings and feel that they cannot achieve, that school is "too hard" and are withdrawn in their academic journey. In contrast, when students are placed in a classroom based upon their individual academic strengths and their areas of need, students are provided with greater opportunities for academic success.
Focusing on each child's unique needs seems to be  a huge benefit, how does that manifest in Roig's daily environment?
Students at The Roig Academy are provided with one-on-one learning opportunities that focus on their specific areas of needs. Many students have learning throughout their day that allows for individualized instruction and attention from the teacher. These opportunities allow students to focus on their areas of need. For instance, if a student requires more support in the area of literacy, that student has an academic schedule that is reflective of this area and provided with further support from the teacher, separate from the needs of their peers.
What are some common reasons parents seek out the school?
Some parents have found that traditional educational settings are limited in their ability to diversify and individualize an academic path for a child and as a result these students are the ones often "left behind" and parents are left feeling hopeless, discouraged and frustrated for their child. Parents are looking for opportunities for their child to learn and grow in an environment that recognizes and nurtures their uniqueness.
Roig is a school, geared toward preparing students to rejoin a larger learning environment, how long do most students remain in the school?
Students stay until they are ready to transition into a different learning environment. Each student's level of readiness will look differently, therefore there is no predetermined time set that each student must adhere to. A student's level of readiness is assessed throughout their learning journey. Parents, teachers, other professionals and the student themselves are part of an ongoing conversation.
Tell me a little about what makes your faculty special and how they work with the students.
Teachers at The Roig Academy have an awareness and understanding of each their students. With this, teachers are able to provide a greater level of individualized support and intervention, not only academically, but emotionally and socially as well. Teachers become a trusting and caring person in the lives of each their students and are able to foster a deeper love for learning as a result.
The Roig Academy serves PK2-8th grade and is located at at 8000 SW 112th Street in Pinecrest. For more information you can call 305.235.1313 or visit www.roigacademy.com.