Adrienne Bosh, devoted wife of Miami Heat's Chris Bosh, community activist, entrepreneur and mother of three, hosted Team Tomorrow Inc.'s third annual "Today I Can" Mother's Day soiree on Wednesday, May 20th at the 1 Hotel in Miami Beach.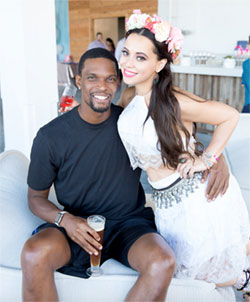 The invite-only event was an unforgettable evening of luxury featuring all of Adrienne's favorite treats and activities. Adrienne and Chris welcomed each participant to the boho-chic Glamchella wonderland put together by Jackie Ohh Events, complete with sparkly teepees, floor pillows, lanterns and incense. (public relations handled by The Dana Agency Public Relations and Special Events.
Guests took turns cycling between craft stations making inspirational vision boards, dreamcatchers and boho-chic flower crowns, while sipping Korbel compliments of Premier Beverage. The women enjoyed a private, moonlight yoga session by Orange Lotus on the pool deck, before delving in to the gourmet dinner buffet and decadent dessert bar, overflowing with sparkly, sweet treats by Ohh my Sweetness, You Can Call Me Sweetie and The Butter Creamery.
Throughout the event, the women were invited to peruse the collection of uplifting books, t-shirts and candles provided by Sparkle & Shine Darling (Adrienne's soon-to-open retail store and event space in Miami Beach) and handmade jewelry and crystals by Mayan Rose Shop.
The evening was topped off with an spiritual drum circle meant to bring the ladies together a foster a sense of community.
MORE ABOUT TEAM TOMORROW:
Founded by NBA Star Chris Bosh in 2010, Team Tomorrow Inc. is dedicated to supporting community-based organizations that promote the upliftment of children, families and the community.
MORE ABOUT TODAY I CAN:
Through her influential social media platforms, Adrienne was able to launch a viral "Today I Can" movement encouraging and inspiring women to set daily goals to reach their dreams. With the success of her "Today I Can" social media movement and as a proud mother herself, Adrienne established the Annual "Today I Can" Mother's Day Brunch, which will saw its third year this May. "Today I Can" celebrates new and expectant mothers, single moms, those facing challenges and more by treating them to a morning of pampering and gifts with baby supplies.
Photo credit: April Belle Photos